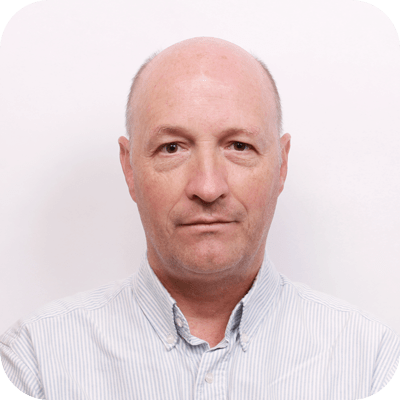 Dr. Nicolas Chuberre graduated from "Ecole Supérieure d'Ingénieur en Electronique et Electrotechnique" in Paris in 1988. Previously with Nokia & Alcatel Mobile phones to design signal processing algorithms, Medium Access Control protocols and integration test tools for 2G cellular handsets & systems, he joined Thales Alenia Space to manage the development of satellite payload equipment and the design of advanced Satellite Communication Systems (GEO and Non GEO). He has successfully initiated and led several European collaborative research projects in FP6, FP7, H2020 as well as ESA ARTES context. He has been chairing the SatCom Working Group of Networld2020 technology platforms (https://www.networld2020.eu/) during 9 years and as such was member of the partnership board of the 5G Infrastructure Association (http://5g-ppp.eu/). Nicolas has published several papers on innovative Satellite System concepts. Currently he is defining and developing Satellite Solutions for 5G. In addition, he is the lead representative of Thales in 3GPP TSG RAN where he is the rapporteur of the standardisation on satellite in 5G. He also chairs since 2006 the Satellite Communication and Navigation working group at ETSI (www.etsi.org).
What is the role of satellites in the context of 5G and beyond 5G?
Usually, the SatCom community is promoting satellites for 5G but I believe it has more value to consider what the 5G ecosystem acknowledges in terms of roles for satellites in 5G. This ecosystem has discussed in the context of 3GPP (standardization organization responsible for the definition of the 5G system). It gathers more than 600 members among which are the vendors (chipset, terminal, network), service providers, network operators, user groups, and market representatives. Their view is reflected in the technical report 3GPP TR Study on New Radio (NR) to support non-terrestrial networks (Release 15).
foster the rollout of 5G service in un-served areas that cannot be covered by terrestrial 5G network (isolated/remote areas, onboard aircrafts or vessels) and underserved areas (e.g., suburban/rural areas) to upgrade the performance of limited terrestrial networks in a cost-effective manner,
reinforce the 5G service reliability by providing service continuity for M2M/IoT devices or for passengers onboard moving platforms (e.g., passenger vehicles-aircrafts, ships, high-speed trains, buses) or ensuring service availability anywhere especially for critical communications, future railway/maritime/aeronautical communications, and to
enable 5G network scalability by providing efficient multicast/broadcast resources for data delivery towards the network edges or even user terminal.
Satellite networks are expected to provide eMBB and/or mMTC services.
In terms of targeted use cases:
For eMBB service class: multi-connectivity, fixed and mobile cell connectivity via satellite or hybrid satellite/cellular, network resilience, trunking, edge network delivery, direct to node broadcast, direct to mobile broadcast, wide-area public safety, and local area public safety.
For mTC service class: wide-area IoT service and local area IoT service.
Where did the idea of the DYNASAT project come from?
In 2002, I started researching with Prof. Barry Evans, Prof. Giovanni Corazza, Prof. Alessandro Vanelli, and my colleague Christophe Nussli on a satellite broadcast component for the 3G network in various research projects supported by the European Commission (FP5 MoDiS, FP6 MAESTRO). These projects were in the continuity of previous projects (FP3 SINUS, FP4 SAINT, and FP5 SATIN projects) which investigated different scenarios for the integration of satellite with 3G UMTS systems at radio and core network level, in which Alcatel Espace (Thales Alenia Space) was involved) as well as related technical aspects.
The concept of the satellite systems integrated with mobile networks was not a new one. Alcatel Space (now Thales Alenia Space), Loral (now SS Loral) Qualcomm, Vodafone, and Orange were involved during the '90s in the design of the Globalstar system (whose initial name was CellSat). The key assumption was to integrate this LEO satellite network into a GSM one, as the GSM ecosystem was emerging. My colleague Cyril Michel had been involved in the initial system of Globalstar, including the standardization & engineering aspects. The radio air interface had been designed to be very close to the IS-95 terrestrial one, and the objective was that the user could use the same user equipment for a cellular mobile terrestrial network or a satellite one.
Meanwhile, my colleague Laurent Combelles triggered and actively supported the regulatory effort at CEPT and ECC to obtain the decision to have the authorization of deploying a complementary Ground Component in the S band initially assigned exclusively to Mobile Satellite Services. This led to consolidating the status of the S band in the EU, and to a yet unique pan-European licensing process.
In the 2000s, there were initiatives trying to implement a seamless service continuity across satellite and cellular access serving handset with protubating antenna for professional users.  The progress in several key space technology (e.g., solar panels with the introduction of GaAs, electrical propulsion, battery with Li++, reusable launchers) and the reuse of terrestrial technologies enable increased performance and reduce cost paving the way for the development/deployment of new satellite system concepts.
In that context, I asked myself whether we could adopt a disruptive approach by designing a space segment able to serve the commercial handsets of the consumer market. Interestingly the same concept was considered in parallel by my colleague Didier Le Boulc'h. It took some time to investigate a viable path towards this objective which at the time was considered full of roadblocks.
Prof. Alessandro Vanelli alerted me about a contribution from Ojas Choksi working with Dish networks and proposing to consider satellite in 5G as part of the 1st 3GPP organized a 5G workshop on 17-18th September 2015 in Phenix, Arizona. Toon Norp from TNO called me in November 2015 to alert me about the opportunity of contributing to the specification of the 5G system adding a satellite component. As a key contributor to 3GPP SA1 Working Group in 3GPP which was identifying the 5G service requirements, he was indeed best to grasp whether 5G could offer a favorable framework.
On 8th March 2016, my colleague Christophe Nussli and I were on our way to attend a project meeting in SES premises in Luxembourg. The Invitation to Tender prepared by Cyril Michel/ESA was addressing the identification of the opportunities offered to the European and Canadian satellite communication industries when considering the integration of the different aspects (business/solution/technology) of SatCom solutions with the terrestrial solutions. During our discussion, Christophe Nussli opened a new perspective for the use of 5G New Radio protocols in all satellite networks. But the challenge was to obtain the support of the 3GPP ecosystem.
In the meantime, Cyril Michel became my colleague, and we started to contribute to 3GPP in order to promote the concept of satellite integration in 5G networks, from the radio standpoint, the services, and the management standpoint. We were joined by other colleagues Thibault Deleu then Baptiste Chamaillard, and Ana Yun. The objective was and remains to contribute to integrating specific satellite features into 3GPP standards, but not to create dedicated satellite standards. One must recognize that ETSI and 3GPP leadership have been significant backers for the adoption of this approach as the 5G system has been originally designed to support the adoption of verticals needs, such as the satellite sector, as well as to benefits from the advantages of the combination of multiple radio access technologies into a single network.
In parallel, Thales engaged R&D efforts on satellite solutions integrated with 5G and providing direct connectivity to smartphones and/or backhaul services (H2020 5GChampion, H2020 Sat5G, and ESA FP ALIX projects). As part of a feasibility study, Water Zoccarato and Mathieu Arnaud came up with disruptive but realistic space segment concepts.
After 3 years, the study phase on solutions for the 5G New Radio protocol to support satellite access, together with the involvement of a growing number of cellular and satellite stakeholders, was completed. 3GPP decided during its plenary meeting at Sitges in December 2019 to kick start the normative phase in both TSG-RAN (radio) and TSG-SA (services and architecture) level under Thales' leadership. As part of Thales' R&D efforts, my colleague Cyril Michel and I discussed and identified possible features that would improve the performance (capacity and data rate) of the satellite access infrastructure providing direct access to handset devices inspired by features developed in previous systems (e.g., Globalstar).
During this same week, my colleagues Cyril Michel and Stéphane Anjuere met Prof. Alessandro Vanelli to discuss the opportunity to research enablers for an increase of performances for satellite access directly serving smartphones in the context of the H2020 space calls. This triggered the design of the DYNASAT project with a small but effective consortium focused on these challenges.
This took place in the context of emerging and competing for industrial initiatives around the world confirming the full relevance of the project goals.
A large portion of the Earth's landmass remains unserved – what role can the projects like DYNASAT play in tackling this challenge?
A large portion of landmass and maritime areas are uncovered by mobile broadband services because of excessive deployment/operational costs in regards to the low number of users. The space industry has worked hard to reduce its cost, especially with new launchers and massive re-use of component parts developed initially for terrestrial systems.
The conditions are now favorable to develop and deploy new space infrastructure adopting the new space principles that are able to support the economically viable provision of mobile broadband services to un /under-served areas through direct and indirect connectivity.
DYNASAT is further working on techniques to support the expected traffic growth of mobile broadband delivered by satellite.
For many people, mobile phones are the only means of accessing the internet, however, according to GSMA, the growth in mobile internet adoption is slower compared to the growth in coverage. What can be done to connect the unconnected?
Indeed, the space industry has the opportunity to meet the key challenge facing the mobile systems to extend coverage beyond urban/suburban areas in order to address the mobile broadband divide, seamlessly, meaning with the same user terminal, whether under terrestrial or satellite coverage.
Will DYNASAT give any regulatory policy recommendations?
DYNASAT is investigating how the access conditions to spectrum should be adapted to foster the deployment of satellite components for 5G. That will help to address the mobile broadband divide, as well as vertical needs for global and seamless service continuity.
About Thales Alenia Space
Drawing on over 40 years of experience and a unique combination of skills, expertise, and cultures, Thales Alenia Space delivers cost-effective solutions for telecommunications, navigation, Earth observation, environmental management, exploration, science, and orbital infrastructures. Governments and private industry alike count on Thales Alenia Space to design satellite-based systems that provide anytime, anywhere connections and positioning, monitor our planet, enhance management of its resources, and explore our Solar System and beyond. Thales Alenia Space sees space as a new horizon, helping to build a better, more sustainable life on Earth. A joint venture between Thales (67%) and Leonardo (33%), Thales Alenia Space also teams up with Telespazio to form the parent companies' Space Alliance, which offers a complete range of services. Thales Alenia Space posted consolidated revenues of approximately 1.850 billion euros in 2020 and has around 7,700 employees in ten countries.
Represented by Dr. Chuberre, Thales Alenia Space contributes to DYNASAT by designing and sizing of the reference 5G satellite network infrastructure and assessing the performance impact of this technology. Thales Alenia also addresses the regulatory aspects associated with the spectrum sharing schemes and promotes the research outcomes to the most relevant standardization organizations such as 3GPP.