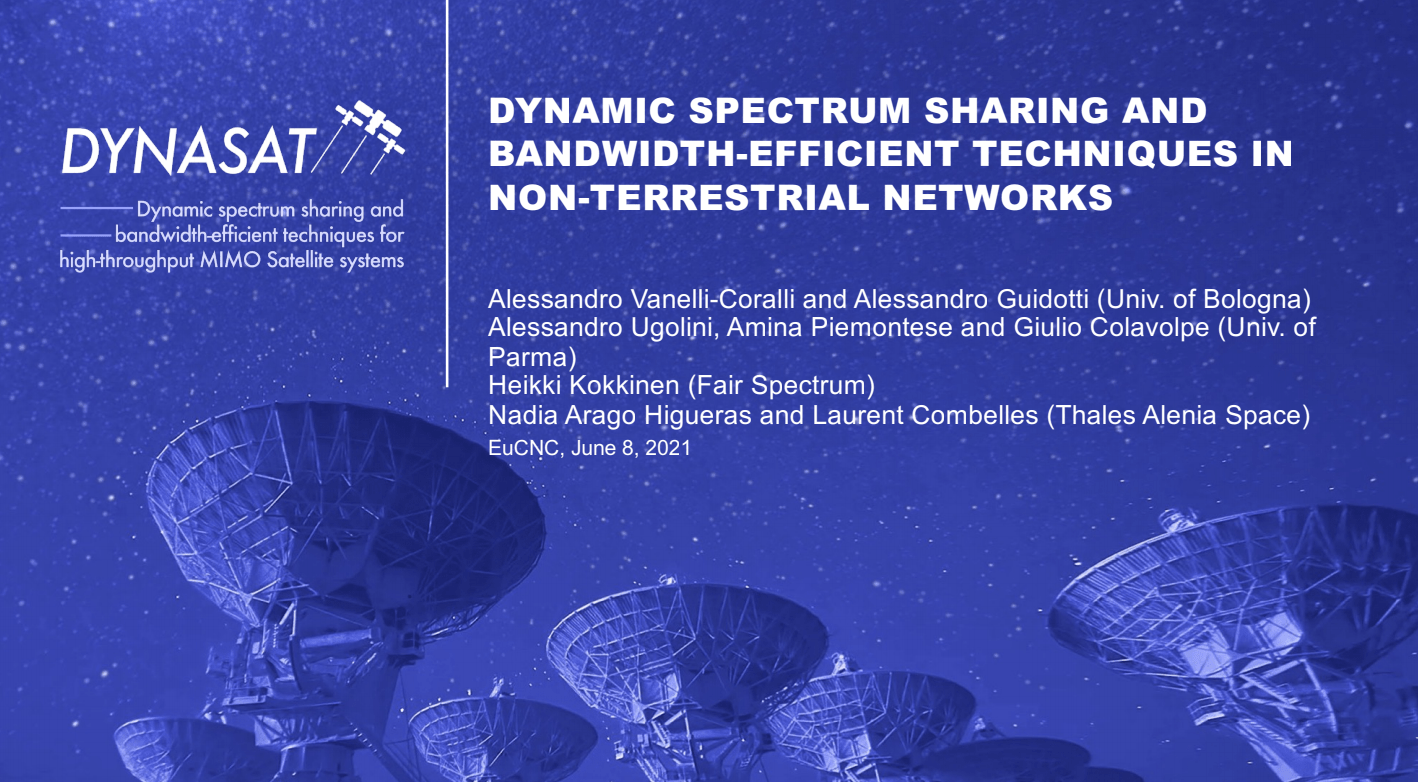 As part of the EuCNC & 6G Summit 2021, DYNASAT Consortium organized a tutorial entitled 'Dynamic Spectrum Sharing and Bandwidth-Efficient Techniques in Non-Terrestrial Networks'. The tutorial took place on June 8, 2021, in a virtual format and covered dynamic spectrum sharing and bandwidth-efficient techniques for integrated terrestrial and non-terrestrial Beyond 5G architecture with an emphasis on non-terrestrial networks component consisting in a mega-constellation of low Earth orbit (LEO) satellites.
The event was divided into five parts, each covering a different aspect and presented by different speakers, among which were Prof. Alessandro Vanelli-Coralli and Dr. Alessandro Guidotti (University of Bologna), Dr. Alessandro Ugolini, Dr. Amina Piemontese, and Dr. Giulio Colavolpe (University of Parma), Dr. Heikki Kokkinen (Fair Spectrum), Ms. Nadia Arago Higueras and Mr. Laurent Combelles (Thales Alenia Space).
During the introductory part, Prof. Alessandro Vanelli-Coralli introduced DYNASAT, its vision, mission, and objectives. Part I, 'Non-Terrestrial Networks at a glance' covered the introduction to Non-Terrestrial Networks (orbits, constellations, link budgets, propagation aspects, system elements), the NTN component in the 3GPP context (architectures and integration with the terrestrial component), and various scenarios, services and use cases. Part II, 'Bandwidth efficient techniques' provided an introduction to interference management and exploitation transmission techniques, multi-user MIMO cooperation techniques, and the advanced mega-constellation case. Part III, 'Dynamic spectrum sharing and coexistence techniques' introduced dynamic spectrum sharing and coexistence techniques, satellite communications network characteristics affecting dynamic spectrum sharing, and dynamic spectrum sharing solutions for NGSO satellite communications.
Conclusions drawn from the tutorial are:
Non-Terrestrial Networks are gaining importance in 5G, B5G, and 6G systems.
Efficient use of allocated bandwidth and available spectrum is to be sought at all system levels.
Integration with terrestrial networks calls for smart and efficient dynamic spectrum management to deal with inter-system interference.
Mega-constellations are being designed and deployed.
In such dense mega-constellation deployments, e.g., several nodes in visibility, intra-system interference can be exploited to improve the efficiency of bandwidth use.
Techniques addressing the exploitation of inter and intrasystem interference have been presented.
DYNASAT is addressing evolutionary and revolutionary techniques in both scenarios.