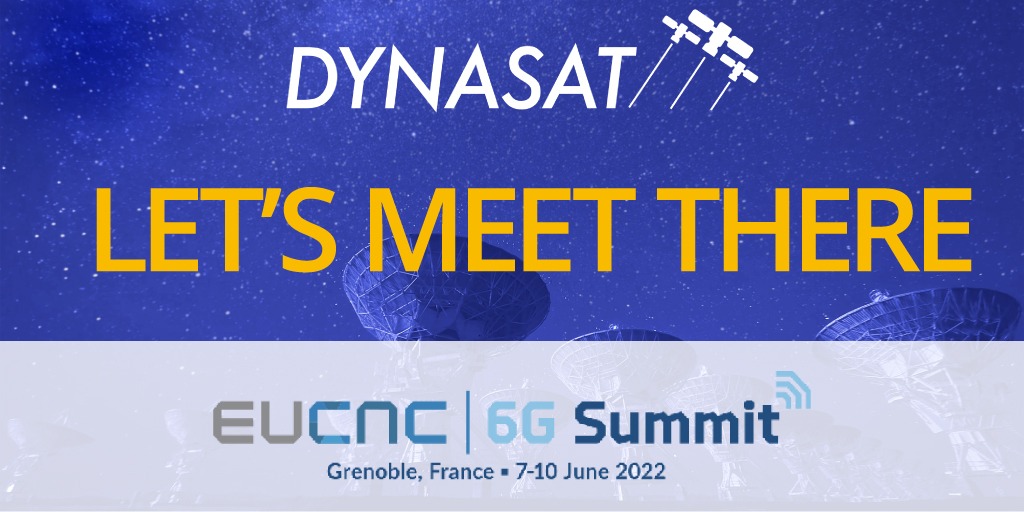 From 8 – 11 June 2022 DYNASAT is organising a booth at the European Conference on Networks and Communications (EuCNC) taking place in Grenoble, France. At booth 1 the project will demonstrate its latest innovations in dynamic spectrum sharing and bandwidth efficiency techniques for high-throughput MIMO Satellite systems.
More specifically, DYNASAT will showcase three demonstrations:
Demo 1: Coordinated Dynamic Spectrum Allocation (C-DSA) for efficient spectrum utilisation (Lead: MAGISTER)
Demo 2: Non-Coordinated spectrum sharing for efficient spectrum utilisation (Lead: Fairspectrum)
Demo 3: Multi-Connectivity for bandwidth-efficient techniques (Lead: MAGISTER)
Join us from 8 – 11 June 2022 at EuCNC, booth 1!
About DYNASAT
DYNASAT aims to research, develop, and demonstrate the use of innovative techniques for bandwidth-efficient transmission and efficient spectrum usages for next generation satellite networks. Selected innovative technologies include Multiple-Input Multiple-Output (MIMO) schemes, multi-connectivity (MC) and coordinated/non-coordinated spectrum sharing between TN and NTN. LEO satellite system operating on S-band (around 2 GHz) frequency range providing services for handheld User Equipment (UE) was selected as a baseline for evaluations.
About EuCNC
EuCNC focuses on all aspects of telecommunications ranging from 5G deployment and mobile IoT to 6G exploration and future communications systems and networks, including experimentation and testbeds, and applications and services. It is supported by the European Commission and the 6G Summit and sponsored by the IEEE Communications Society and by the European Association for Signal Processing.
More information here.